Driving Through Uzbekistan
With anticipation we thought about the one road in the west of Uzbekistan, driving our car 500km without passing any village. And after that, hopefully, experience the beautiful feeling of 1001 Nights.
Crossing the border took a while; well seven hours to be precise. We had to wait in line, then take out every single item in the car, bring it inside to scan it. After that, we had to explain the use of every piece they didn't recognise. This conversation was particularly funny with our first aid kit as we pantomimed the meaning of pills against a headache or the squitters. (I'd bet we would beat everyone at the game Activity or Charades now!) I heard that today, the border crossing it is a lot faster.
Check before visiting
Check in advance what you're not allowed to bring in to the country.

Especially Medicaments; a lot of pills are illegal

Pictures on your devices with sexual or extremist content.
They checked our iPad. We had nothing to worry about, but we heard stories...

Books with religious, political, sexual or extremist content.

Check how much US dollars you are allowed to import (and don't export more).

Check in advance if the border is open.

You'll almost certainly need a visa.

You'll find more detailed information on the blog Caravanistan


In the country
It's a police state; when travelling by car, there are a lot of checkpoints everywhere. That's no problem; it only takes some time. You may have to grin when you see them opening one of their huge books and writing down your name by hand.

Registrations; In 2015 we had to prove where we stayed for the night. Every hotel gave us a particular receipt for this. From our own experience, one or two nights without a receipt was accepted, but still, you risk a fine. Some hotels wouldn't take you if you had no ticket for the previous night.

Hotel staff usually spoke English. Guides offered their tours often in French.

Moderate clothing is recommended to visit monuments.

In every hotel we've been, we had v - e - e - e - r - y slow internet connection.


Exchange Rate
Back in 2015, the money exchange was different every day. We took dollars in cash to change it at the market. The official rate was double as high as on the market.

Since 2017, Uzbekistan has a new policy; US dollars can now be exchanged at banks for almost the same rate.
Karkalpakstan
Well then, we drove on this long road. From what we've heard it was built by the British army, to enter Afghanistan. That has to be a good street! Unfortunately, the British ruined the tarmac with their heavy tanks. Okay, 500km of bumpy road in front of us, next to it a gas pipeline, making it impossible to go off-road. Should we drive very slowly through each pothole, or take a risk, drive very fast and 'fly' over them? The later could break the car, so we took our time. Summary: flat tire, bad eggs or mayonnaise, stomach ache, no toilet and nowhere to hide, heavy rain, fatigue. We stopped at the first gas station, confused about the money exchange and the, well, gas station; see the pictures below. The official exchange rate was 1:2500, on the black market it was 1:4000 at the time. We felt like millionaires!
Dave (with the GPS): "Only 80km left to the hotel in Nukus." Me (driving): "We are driving 80km/h, in one hour we're there!" - "Now 60km to go." - "Sorry can't see anything in the dark; I am driving 60. Still one hour." - "Ok, 40km left." - "Sorry hon, can't see anything in this heavy rain. Still one hour." - "Hm, only 20km to go?" - "Well, road works ahead, I am driving 20. We'll never arrive."
But we did, finally. Let me tell you this story about the hotel we found in Nukus: They asked us if we wanted a room for 30 or 60 dollars. We wanted the cheaper one, of course. Before payment, they showed us the room. I call it their 'showroom'. It was in an awful condition and extremely unpleasant. "Okay, the room for 60 dollars then, thanks!"
To finish this chapter: A few countries later we met a couple travelling the same route by motorbike. They carried sleeping pills and the border patrol arrested them. She had to drive this long road in the police car, while he was following on the bike. They had to wait in the same hotel for seven days until they tested the pills for its content. And the best part: When they left Uzbekistan, they checked their smartphones and found a sex-clip in his chats. That was not good, but fortunately, they didn't get arrested.
Karkalpakstan is an autonomous republic in Uzbekistan. We didn't get warm with Karkalpakstan, but we enjoyed Uzbekistan a lot!
Must-See Cities
Our trip led us across Khiva, Ayaz-Kala, Buchara and Samarkand. I'll talk in the following posts about this oriental beauties. We used the time in Tashkent for souvenir-shopping and enjoyed the excellent WiFi. It was there when we saw fat-tailed sheep for the first time and couldn't stop laughing. The Uzbek Samosa filled with meat often have a piece of their fat in the middle. Sounds weird, but it's really delicious. Our host in the hotel greeted us with a live performance on his Dutar, a two string instrument. Later, we walked around, visited the Chorsu Bazar where they sell everything. We finished the walk in the Central Department store; I wanted more of the gorgeous traditional Uzbek fabric. The silk is still decorating my sofa today in form of self made pillows.
Cheese Balls
After only one day in the capital city, we headed towards Kyrgistan, passing the green, beautiful Fergana valley. Every road stand offered small bags filled with white balls and we were wondering what it was. We figured it out at the next checkpoint. The officer was eating one of these white things and had only one left when I approached him. Unsure if he should keep it for himself - he really seemed to love that stuff - or give it to me, he decided for the latter. Thankfully, I took it and brought it to my widely opened mouth. Only then did I smell a, let's say, special odour, and only scratched the surface with my teeth. It's a cheese ball called Kurt, made with drained sour milk.
Continue reading about Uzbekistan!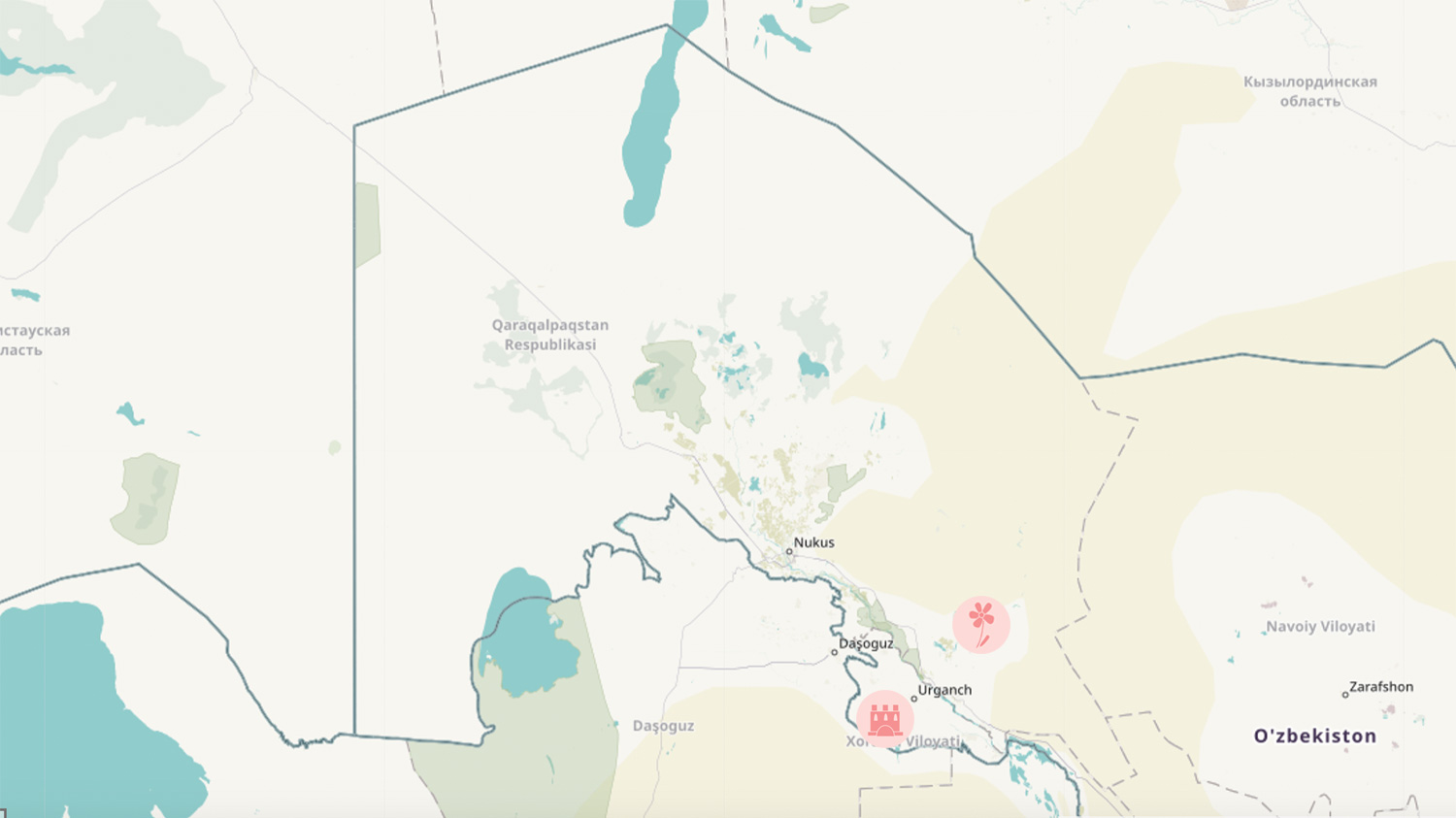 In 2015 Dave and I bought a Mitsubishi L400 and drove off. This road trip took us from Bern to Ulanbator through some fantastic places. I will talk more about this adventure in the future.