Is it worth going to Khiva?
Are you going to Uzbekistan, but you're not sure if the long way from Tashkent to Khiva is worth it? I give you my answer straight away: Yes! Read why.
I loved Khiva! The city is split into two parts. The small town behind the brick walls is called Ichan Kala. It is well preserved and authentic, like an open-air museum. And it was the first town named in the Unesco World Heritage List. We stayed in the lovely hotel Islambek, with beautifully carved doors and a lovely balcony on the rooftop. The staff was accommodating and even brought us to a garage to fix the flat tire we got earlier in Karkalpakstan.
We met an Australian guy and a French girl in a cafe. He wanted to get some money, and when he returned, he looked like a cartoon figure; his trouser pockets were overstuffed with bills.
During the day we strolled around and were impressed with the whole city in general, but also about the small details. Some towers have sticks, pointing in every direction, as a protection against bad spirits. Everything looks plain-coloured in a sandy shade, but a green or blue patch will light up from madrasahs or minarets.
The big tower Kalta Minor is an unfinished piece of art; its name translates to short minaret. You'll recognise it quickly; the tower's covered with turquoise glazed tiles. Back in 1852, the Kan of Khiva wanted to have the highest minaret in the Orient. If you google for the reason for the interruption, you'll find a lot of different stories. I guess nobody knows why, but the legends can be entertaining.
You can walk on the top of the 10m high city-wall and have a great view over the rooftops. Some buildings seem to miss an outer wall. There're nice cafes and small bazaars everywhere, selling carpets or knitted slippers. Outside the wall is a big market, offering everyday tools, spices or fruits. We enjoyed this place because it was nothing touristic about this market, they sold reaping hooks, scissors or car tools. Get yourself a unique souvenir there and buy a Chekich.
A Short Tour
Inhale the atmosphere while strolling around the whole town
Take a walk on the city-wall Ichan Kala for the view
Make a lot of breaks in nice cafes
Shop some souvenirs (chekich, slippers, scarfs)
Visit the Friday mosque with it's old wooden sculpted pillars
If you have time, join a silk-workshop
Ayaz-Kala
We wanted to see one of the three fortresses of Ayaz-Kala. The archaeological site is not far away from Khiva, but part of the region Karkalpakstan. We were prepared with GPS-coordinates. Passing Urgench and Bustan, we continued on a sandy path in the desert. And continued and continued… For the first time, we totally lost track. (There must be something about this republic Karkalpakstan, I don't know.) We drove back and with the help of the good old street map found our way to the fortresses, number one and two. If you like ruins, I recommend it. It was built as a refuge, in case the countryside got under attack by raiding nomads. Somewhere I read that back then, there was an oasis, hard to imagine that now. The ruins are easily accessible, that makes it fun to visit. But the structures are not protected from visitors and could get damaged.
We continued our trip to Bukhara. The distance was too far to reach a hotel, and so we spent our first unregistered night in Uzbekistan.
Bukhara is where you find 1001 Nights, come back next week!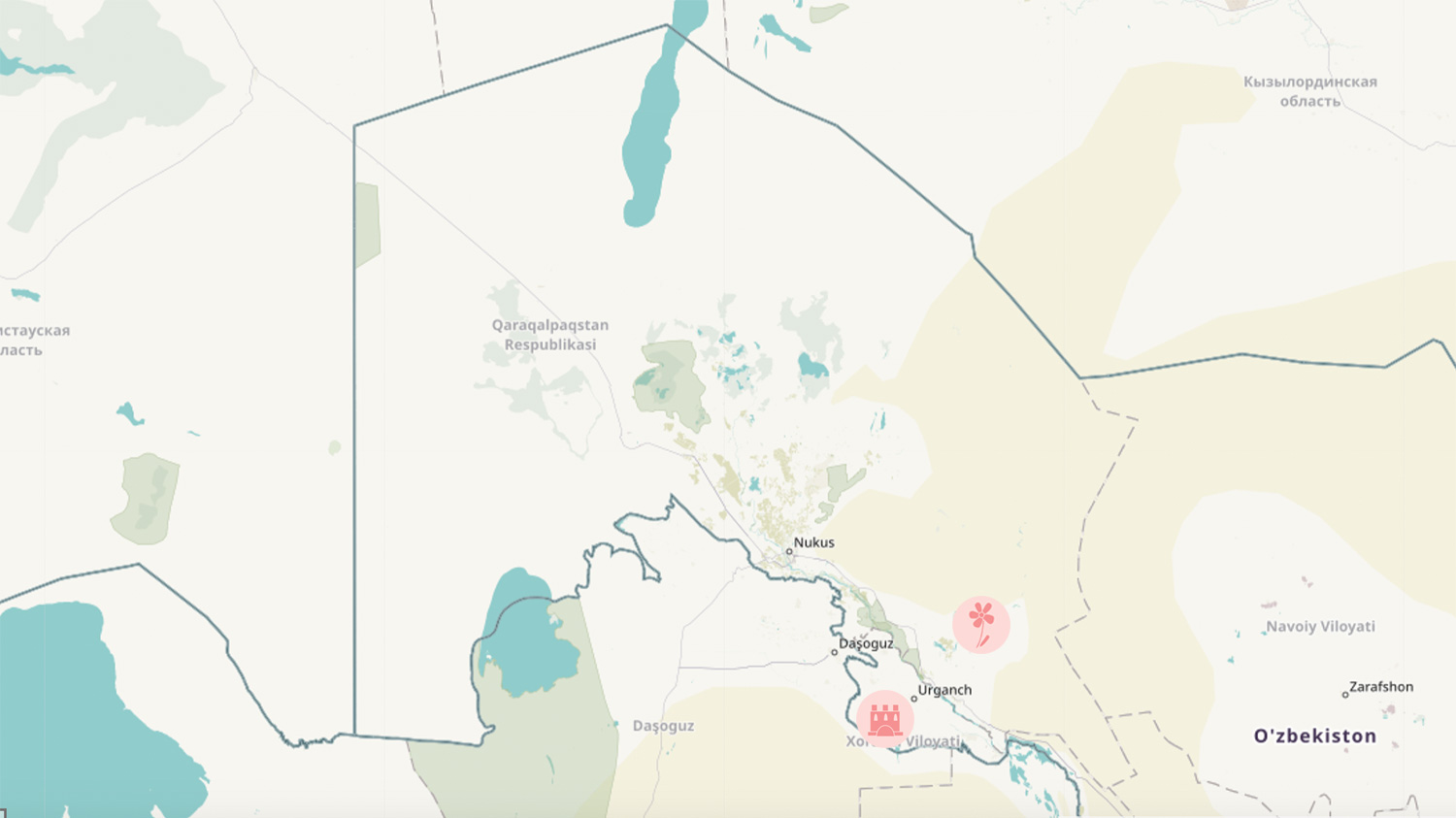 In 2015 Dave and I bought a Mitsubishi L400 and drove off. This road trip took us from Bern to Ulanbator through some fantastic places. I will talk more about this adventure in the future.